Social media makes doing any business online seamless, connecting your products or services to a larger audience without geographical restriction. For example, you can have an e-commerce store and sell to customers in different regions by connecting with them using your social media platforms.
Despite the ease of using social media for business, most customers want to have the in-store experience of speaking with a brand expert in a conversational dialogue before making a purchase decision. Unfortunately, most online businesses use one-way communication methods such as contact forms and emails.
On the other hand, businesses are using instant messaging apps to sell their products or services and build a community of recurring customers because it creates a direct communication sequence and emulates an in-store buying experience.
One of the most powerful instant messaging tools that bring your business and brand closer to your customers is Telegram. Telegram has approximately 700 million monthly active users, making it the fastest-growing instant messaging app. So, what does this mean for your business or brand? Where there are more people, that is the best place to advertise and market your products or services.
Telegram has evolved into a platform for small-to-medium-sized businesses to connect with customers due to its direct messaging communication and high engagement rate. Creators can also use it to host online courses, create crypto communities, build web3 projects, and many more. Therefore, knowing how to build an engaging audience that will help your business or brand grow is essential.
How To Grow Your Brand On Telegram
Telegram can be used to promote your business, brand, or project in two ways: Telegram channel and Telegram group. As a result, your business or brand niche will determine whether you require a channel or a group. However, regardless of the type of business you conduct on Telegram, the following tips will help you increase engagement, traffic, and brand growth.
Create A Professional Profile
Your profile is the face of your business or brand. Your audience should be able to tell what your brand is all about by looking at your profile. You can create a brand identity for any industry where you want to sell your products or services. You could, for example, start a cryptocurrency community, a book club, an e-commerce store, or sell an online course.
If your business has a presence on other social media platforms, ensure a consistent brand identity across all of them. This gives you more credibility. Like your other social media profiles, your telegram profile should explain to your audience what your business is all about.
Join Existing Channel In Your Niche
Being a part of another channel is the simplest way to attract members to your channel. Once you've discovered an existing channel related to your niche, you can capitalize on its members by participating in the chat group and sharing your profile URL so members can join your channel for more content. Being a part of an existing channel also allows you to see how other administrators interact with their members.
Create Quality And Attractive Content
Creating quality content is one of the most effective ways to attract people to your business, community, or project. Content drives brand engagement, and the only way to attract members to your Telegram page is to create the right content. Create and upload various content formats such as videos, gifs, quotes, etc. Post engaging content that users will find interesting and relevant to their concerns. For example, if your channel is about diet and nutrition, you should create content to teach your audience how to stay fit, eat healthily, and other beneficial tips. The more you create quality content to educate your audience, the more you gain their trust, and your business grows.
Stay Active and Consistent
The more activities on your channel, the more the Telegram algorithm boosts your channel in the ranks for more people to join. So, it is important to regularly update your channel with new content and actively engage the members. Ensure you're active for most of the day and regularly engage new members by giving them a warm welcome
However, it is nearly impossible to be active 24 hours a day, seven days a week, to engage your members. As a result, to encourage interaction, you must synchronize your channel with Telegram bot features. You can use the bot to automate the channel's activities and keep it active by welcoming new members and responding quickly to member inquiries.
Integrate Bots To Your Channel
Telegram is an open-source platform that allows you to integrate bots into your channel. Telegram's bot lets you interact with your members automatically to provide business information or perform other web-based tasks. The bot allows you to promote your channel, automate and optimize various channel activities, and drastically reduce or eliminate manual work.
It takes a lot of effort to manage your channel, but with the right bot service, you can make it easier by automating channel activity and managing member engagements. A very great tool that effectively manages your channel is the Cwallet Bot. The Cwallet bot simplifies all your channel needs to grow and attracts new members. Here is what you can do with the Cwallet bot.
Establish a subscription for your online courses, private tutorial groups, fitness video content, etc.
Establish a DAO and provide a safe and effective way to collaborate with like-minded people worldwide.
Set up a referral program to gain more exposure for your brand, project, or community.
You can use the Cwallet bot to monitor member engagement, accept product or service payments, incentivize your members, and so on, all in one bot.
It is recommended that you create your own bot and customize it to meet your needs.

Cwallet Bots Assist with Group Management
Host Contests and Giveaways
Regardless of whether you create quality content to keep your members engaged, hosting contests and giveaways is the most effective way to attract new members to your channel. This draws attention and increases engagement, which is essential for growing your business or brand. You can provide freebies to members who participate in social activities. Members can be rewarded for participating;
Referral contests –the member with the highest number of invites gets the prize.
Engagement contest –the most active member within the channel gets the prize.
Tasked giveaways –announcing giveaways for new members and putting the link on other platforms. Reward members for bringing their friends to the channel.
You can, however, automate your channel contest and giveaway with the Cwallet Giveaway Tool, which allows you to manage the channel without having to perform any manual tasks.

Cwallet Giveaway Tool: Get Creative with Your Giveaway
How To Use The Cwallet Giveaway Tool To Grow Your Telegram
You can use the Cwallet Giveaway tool on your group/channel in a variety of ways. You can run a contest in which members are rewarded for inviting new members to your channel, or you can reward the most active member.
Once you've created your Giveaway, the Cwallet Giveaway Tool allows you to add details and describe the type of giveaway to give participants an idea of what to expect. While filling out all of the details for your giveaway, you can add banners and videos to further explain your campaign to participants, which will increase the giveaway's authenticity.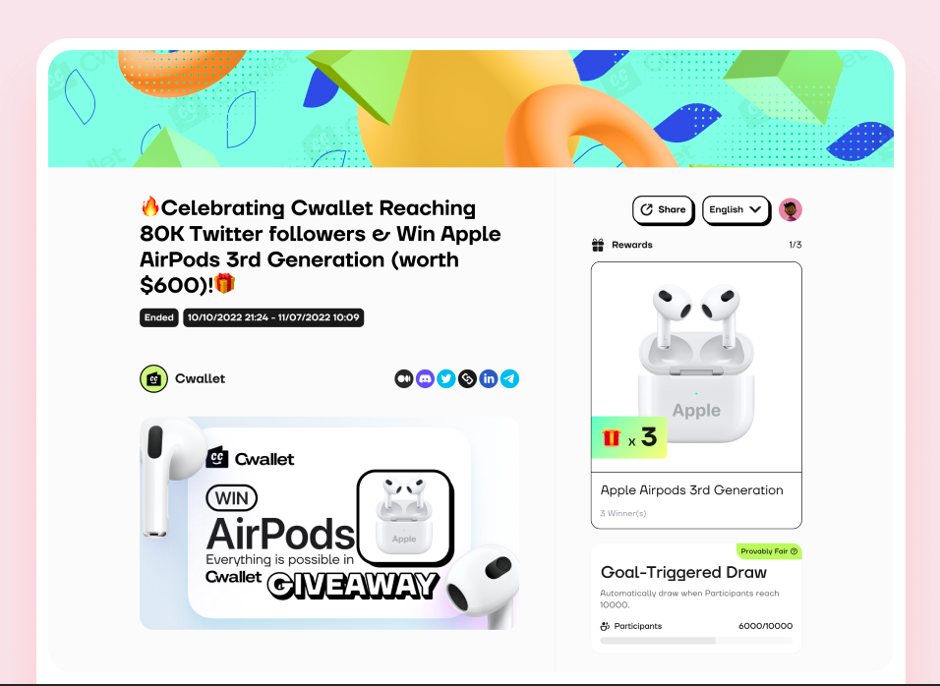 Cwallet Giveaway Tool: Stylish and Clear Giveaway UI
The next step is to define the tasks that participants must complete in order to be eligible for the reward. However, before you create the task, you can specify how participants will login and participate in it. Participants can access your giveaway page via email, Twitter, Telegram, Discord, or Reddit, whichever method you prefer.

Cwallet Giveaway Tool: Select Different Login Methods to Get User's Contact Info
You can modify your Telegram task with or without verification. If you choose a task with a verification option, the Cwallet bot will check to see if all participants have completed the task. For example, you could ask participants to invite 5 new members to the group in order to be eligible to win. The Cwallet bot will verify task completion and draw participants for the reward. However, those who were unable to complete the task will not be eligible for the reward but have helped your channel grow by inviting one or two new subscribers.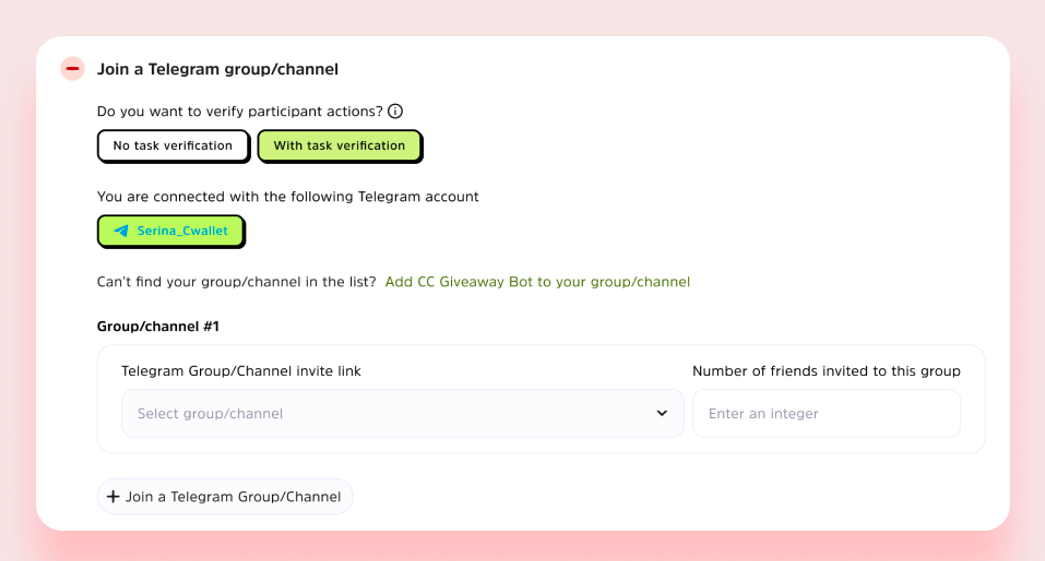 Cwallet Giveaway Tool: Set Up Telegram Task
Moreover, you are able to specify how you want to select winners. The Cwallet Giveaway Tool has three draw methods; Timed draw, Instant draw, Goal-triggered draw.
Create interesting activities according to your needs, whether it's a regular lottery draw, a lottery after reaching a goal, or setting up odds for users to draw themselves! Get users pumped up!
Final Takeaway
Growing your brand on telegram requires consistency. But with the tips shared above, you can increase engagement and participation in your channel. And using the Cwallet bot, you can gain more visibility and exposure.
You have the secret to grow your business on telegram!
As mentioned earlier, hosting giveaways and contests is the most effective way to attract members and grow your business. So, if you're looking for a growth tool to help your business stand out with happy users, the Cwallet Giveaway Bot (available soon) is your best bet for organizing exciting contests, sweepstakes, and fair competitions! click here for a detailed explanation of how the Giveaway Tool works.