How to choose a crypto exchange
First and foremost, security. It has already happened that exchanges have been targeted by hackers, even giants like Binance. To be on the safe side, the best recipe is to shop on multiple exchanges and keep your cryptocurrencies in cold wallets.
The other aspect to bear in mind is the number of cryptocurrencies available, but this is not enough: to carry out many trades you need liquidity, so it is important to choose an exchange with consistent trading volumes.
If you are a beginner, you should choose a simple exchange. Finally, there is the fee aspect to consider. Which, simply put, is an invitation to also consider the legal and tax aspects before starting to trade.
What makes VPEX so special?
The VPEX platform is the best secure centralized exchange for crypto assets trading based on the blockchain with multi future technologies. This makes all operations within the exchange as transparent and high security as possible. VPEX provides people with all necessary tools for professional trading and the fastest transaction speed processing.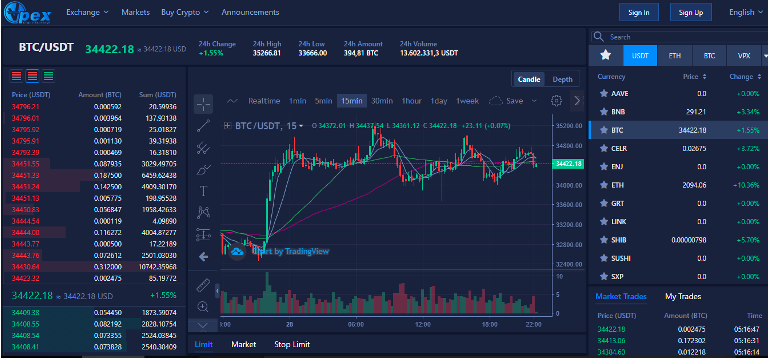 Our vision is to build a bankless society, where the currency is controlled by us holders and not by the powerful few.
Some special on Vpex Exchange:
Secure – Reliable – Professional
The more you hold, the more you gain (Holder earn 2%, Liquidity 2% from each sale VPX)
100% Fair for All
VPEX approach all the aforementioned markets and offer a reliable exchange solution.
VPEX is designed to become an easy-to-use exchange.
How to buy VPX?
Price pre-sale (to 15 Jul): 1 VPX = 0.04 USDT (up to 0.06-0.08 USDT after 16 Jul)
Buy at: buy.vpex.exchange
Accept BNB, TRX
The purpose of VPEX token (VPX)
VPEX token (VPX) is created to be used as the main token of the VPEX exchange. VPX operate as the economic incentive to incentivize people to participate in the VPEX ecosystem. The ecosystem was established to make it a convenient deflationary currency that puts stability first in importance. VPX has staking ability and focuses deeply on community governance. VPEX token holders will be rewarded with 2% of the transaction fee for every transaction paid in VPX & 2% of the transaction fee will be distributed back to token holders based on their balances. This process is used to encourage VPEX users to keep trading and holding more of VPX tokens. We spend up to 2%~20M VPX tokens for charity work.
A limited number of 1000,000,000 VPX tokens have been allocated for the sale event. The token sale is restricted to American and Canadian citizens. All unsold tokens in the presale will be move to main sale.
Funds raised during the token sale will be used for further development of the Vpex ecosystem, expanding on the existing product offering with several value-adding services. The vision for Vpex is to go beyond a simple cryptocurrency exchange and act as a full-featured ecosystem that offers its users the opportunity to trade crypto assets on a fully-fledged, transparent, and secure financial platform. The full components of the ecosystem will include:
VPEX Blockchain Trading Platform for the trading, purchase, sale and exchange of custom tokens and cryptocurrencies of different blockchain, crypto-related projects.
Ecosystem in future: Vpex P2P, Vpex Stake, Vpex wallet, Vpex Gaming, Vpex Social…
Filter quality projects: to promote quality and encourage user engagement, Vpex will institute a rating system for blockchain-crypto-related projects based on different important criteria.
Vpex Startup Incubator: support to startups in realizing their business ideas with advice on capital raise, technical infrastructure development, networking…
VPEX will be a one-of-a-kind system that bridges the gap between crypto trading and startup growth and promotion with a single platform. Vpex team is now giving the global crypto community the opportunity to participate in the further development of the platform. Such cooperation can produce benefits to everyone involved in the public token sale.
Vpex will initially launch in Singapore with a subsequent expansion to other countries (Malta, Germany, UK…). This gives early investors a unique opportunity to enter a new startup that is backed by industry best practices and a regulatory framework early on.
The tech stack used in the development of Vpex gives the exchange a host of competitive advantages over existing solutions on the market. A few of the core principles Vpex is built on are:
A highly secure and stable trading platform built on a microservices architecture that meets the most stringent customer requirements. Plus, VPEX ensures that the system is protected at the highest security level.
Strong customer focus and excellent user experience through a 24/7 support service.
Superior processing power with an institutional-grade trading engine that can process up to 1M orders per second, one of the fastest in the industry.
Powerful liquidity: with a rich and abundant source of liquidity, Vpex ensures that every transaction on the system is executed without delays and multiple intermediaries.
VPX will be used primarily as a medium of exchange on the platform and will also be used for access to token sales, listing and sponsorship fees, and as payment for any services rendered by Vpex in preparing teams for token sales or listings. Funds from the sale of Vpex tokens will be used to further development on the Vpex trading platform to expand our amazing marketing campaign.
The sale of VPX in tandem with a widespread user on Vpex.io will help VPEX achieve its intention of becoming a world-leading cryptocurrency exchange. The overwhelming support for the project already in the successful presale period is a testament to the trust of users and the crypto community in the innovative project.
The Vpex team is working hard to lay the foundation for the global expansion of a regulated cryptocurrency market with all proceeds raised in our token sale event helping further this vision and making it a reality.
Conclusion
The digital asset exchange industry is unstoppable and continues to get the attention of a large amount of traders and brokers. The annual revenues get bigger and compete with globally successful brands. The most impotant of the industry, needs a secure & cheap service solution which will offer better and more reliable conditions with lower fees. Traders will have greater security, lower fees and also transactions. Organizations such as token owners, coin owners will have opportunities to increase customers, reduce third party costs and deliver better more effective services using VPEX solution.
We provide the quickest, simplest and most cost-effective way to exchange. By embracing a blockchan network, they can up build marketplaces without intermediary at a worldwide scale.
We sure, truly traders, brokers, token owners needs VPEX.
Media contact:
Email: [email protected]
Website:  https://vpex.io – https://vpex.exchange
Facebook Page: http://www.facebook.com/vpex.io
Twitter: https://twitter.com/VpexExchange
Reddit: http://www.reddit.com/r/VpexExchange
Medium: https://medium.com/@vpex
Telegram: https://t.me/vpexNews